Catfish N · All Rights Reserved.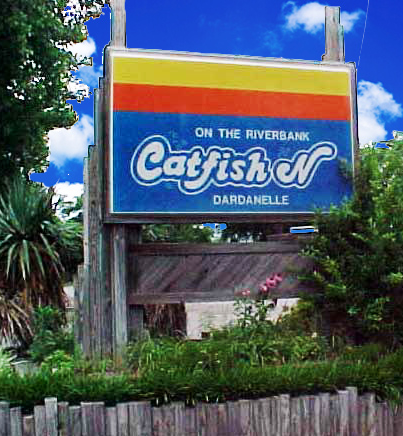 Join us for your next meal!
We invite you to experience Southern cuisine at its finest. Located just one mile south of the Dardanelle Lock and Dam, our restaurant seating overlooks the scenic Arkansas River.



The catfish is delicious – hearty steaks with a good snap to the breading... absolutely fresh – like you'd just caught it yourself. Best hush puppies in the United States.



Roadfood and Goodfood​​


​
​Catfish N is the place to sample crunchy fried catfish and hush puppies!​​



Dallas Morning News Travel​




"5 distinctly different trips well worth the ride"​​



​How about hush puppies? In Dardanelle, AR, visit Catfish N, where these golden sticks of starch 'are moist and oniony, made of coarse cornmeal, so that when they are deepfried, the outside of each hushpup toughens into a chewy skin with a sandy texture.​​​



Newsweek Magazine




"Where the Wonderful Things Are"​​​



​Catfish N is an eating barn above the Arkansas River where the catfish is succulent, encased in a golden crust, and accompanied by onion-sweet hush Puppies. Cole slaw and French fries are also part of the help-your-self, all-you-can-eat deal, as are a good assortment of pickles, onions, hot sauces, peppers, and lemon wedges. The big feed here, an Arkansas custom, is immensely popular among the locals as well as travelers along I-40, so beware of long lines and a wait at meal time.​​​



Eat Your Way Across the U.S.A.​​




"500 Diners, Farmland Buffets, Lobster Shacks, Pie Places, and Other All-American Eateries by Jan and Michael Stern"​




​​The River Valley's Best of the Best Reader's Choice Awards '2003 Best Fish Restaurant' and '2003 Best Seafood Restaurant.'



Russellville, AR Daily Courier​​
Catfish N, one of the most popular rustic "fish camps"…features 'eat-til-you-drop' catfish and hush puppy feasts every evening.

​

Gourmet Magazine



​​Arkansas's 600,000-plus acres of lakes and 9,700 miles of streams lure fisherman from all over, but the most enthusiastic anglers are Arkansans – 2 of every 5 has a fishing license. ​If you haven't caught one yourself, Catfish N in Dardanelle serves its own version, complete with hush puppies – deep-fried cornbread and onion balls. This simple eatery, a brown-wood building perched on the banks of the Arkansas River, sells a ton of catfish every month.



US News and World Report




Rand McNally Top Ten Tour Guide: The Ozarks​



"Best Catfish" winner 21 times!​​​



Arkansas Times




Reader's Choice Awards​​​



​Four words sum up an enthusiastic editorial assistant's review: "All you can eat!" The Catfish N cooks up homey Southern food, specializing in fried fillets of its namesake, amazing hush puppies, fried biscuits with honey, and ribs, among other treats. Skip the salad bar and head straight for the dessert bar, where the apple and peach cobblers are warm and ready to be topped with ice cream. Take advantage of the outdoor seating by the river.



Martha Stewart Living Magazine




"Tasty Destination: Road Trips"



​

One of the curious things about catfish restaurants is how so many good ones are tucked away in small towns off the main highways, or even hidden in backwoods locations far from the nearest paved road…Catfish N is a popular riverbank restaurant on a back street in Dardanelle, Arkansas.





Southern Food by John Egerton



Catfish N in Dardanelle, Arkansas, sits just off Scenic Byway 7, on the west bank of the Arkansas River. Opened in 1971, this rustic spot serves buffet style. It also offers seafood, ribs, and fried chicken. Don't pass up the homemade cobbler.



​Visit South




Taste the South's Best Catfish​


​​
On the banks of the Arkansas River, Catfish N is direct and to the point. The purpose is eating. The food - lots of it, tasty and plentiful – is centered on the catfish and shrimp.

​​

Arkansas Democrat-Gazette




"Dining Review: Serious eaters will gobble fare at fresh catfish buffet by river"​




Gluttony, the ancients warned, is a sin, but those abstemious ancients never supped at America's plentiful buffet restaurants. All-you-can-eat is still one of America's best deals – and the food's pretty darned good, too. "The deep fried balls of cornmeal known as hush puppies got their name because 'you could toss one the dog while cooking and it would shut up!' …try the catfish and hush puppies!

​USA Today


"10 Great Places to Fill Your Plate"



​


Lake Dardanelle, a good spot to swim, ski, sail – or fish for 200-pound alligator gar, 40-pound catfish and 20-pound striped bass. If you don't catch anything, you can sample a local favorite at Catfish N in Dardanelle. This no-frills eatery on the banks of the Arkansas River sells a ton catfish each month.





US News & World Report Magazine




Great American Getaways: Ozarks Heritage​





Wed. & Thurs.
Fri & Sat.
Sun. - Tues.
​4:00 PM – 8:00 PM
​4:00 PM – 9:00 PM
closed