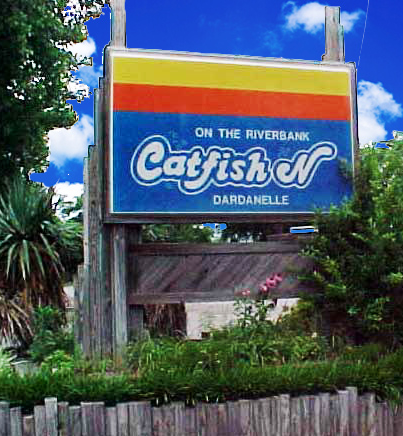 Four words sum up an enthusiastic editorial assistant's review: "All you can eat!"... Take advantage of the outdoor seating...
Martha Stewart Living Magazine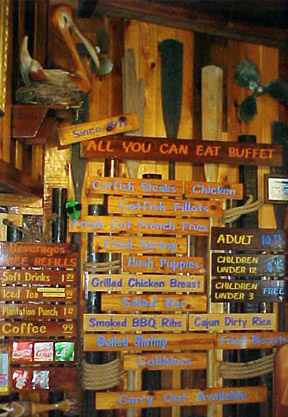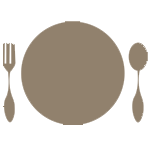 Join us for your next meal!
We invite you to experience Southern cuisine at its finest. Located just one mile south of the Dardanelle Lock and Dam, our restaurant seating overlooks the scenic Arkansas River.

Our meats, seafood, and produce are of the freshest regional ingredients, expertly crafted into the most delicious downhome Southern dishes. In a world of mega-chain restaurants, Catfish N is the local flavor that you want and deserve. Our "All You Eat Can Eat" buffet and famous hush puppies are waiting for you. Stop by and savor our tasty family recipes today!


Catfish N, one of the most popular rustic "fish camps"... features 'eat-til-you-drop' catfish and hush puppy feasts every evening.


The catfish is delicious... absolutely fresh - like you'd just caught it yourself. Best hush puppies in the United States.


USA Farm Raised Catfish Fillets
​Fried Chicken
​Boiled & Fried Shrimp
​Marinated Lemon Basil Grilled Chicken Breast
​Hushed Puppies & Fresh Cut French Fries
​Hot Vegetables & Fried Biscuits
​Prepared & Tossed Salads
​Granny Tackett's Peach & Apple Cobbler
​Blue Bell Homemade Vanilla Ice Cream
Catfish N · All Rights Reserved.

Thursday
Fri and Sat
Sun - Wed
​4:00 PM – 8:00 PM
​4:00 PM – 9:00 PM
closed